What we do
Rominserv evolved as an international project management organization delivering reliable engineering solutions, custom project strategies and top-quality services.
The company successfully managed to become a valid financial and operational alternative to the traditional internalized maintenance system for the execution of turnaround & shutdowns, maintenance, revamps and upgrade works.
Crafted Solutions for Capital Investments
Project management
Project Management Consultancy
Engineering & Design
Sourcing & procurement
Construction management
Commissioning & start-up
Life-cycle Solutions for Operational efficiency
Plant Maintenance
Turnaround management
Predictive maintenance
Preventive maintenance
Industrial Diagnose
Asset management

Fields of activity
Refineries
Petrochemical plants
Fuel Distribution Stations
Biofuels plants
Gas Processing / Treating
Tank Farms
Oil terminals and Jetties
Buoy Mooring Systems
Pipelines
LPG Bottling Plants
Chemical plants
CHP power plants
Bitumen plants
Renewable Energy
Fertilizer Plants
Water management
Public utilities
Siderurgy
Cement & Lime Industry
Vegetable oil plants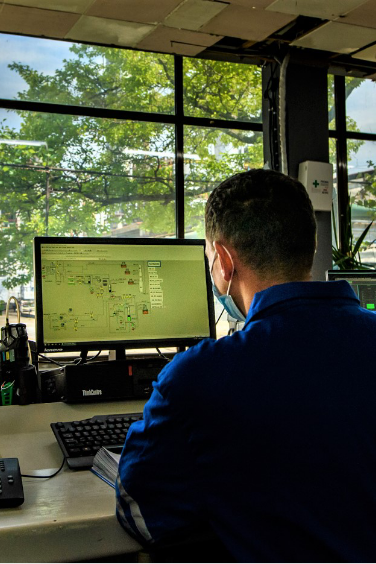 Project Management
Our vision is what defines us best – we are a project management organization with no boundaries, always exceeding our clients' expectations while delivering reliable engineering solutions, custom project strategies and top quality - thus we are able to provide:
Life cycle building – from idea to start-up

Program management

Full project management based on turn-key principle

Risk analysis and management

Management and supervision of construction works
Project Management Consultancy
Project Management Consultancy
Since 2001 we enhanced step by step and year after year our PMO (Project management office), training people and developing business and operation.
At this moment we can provide unique and customized PM solutions and consultancy that will help any interested company to define and deploy a PMO structure, improve and refine an existing PMO, better operate its PMO, PMO staff training, PM skill and techniques improvement, PMO audits.
Maintenance Management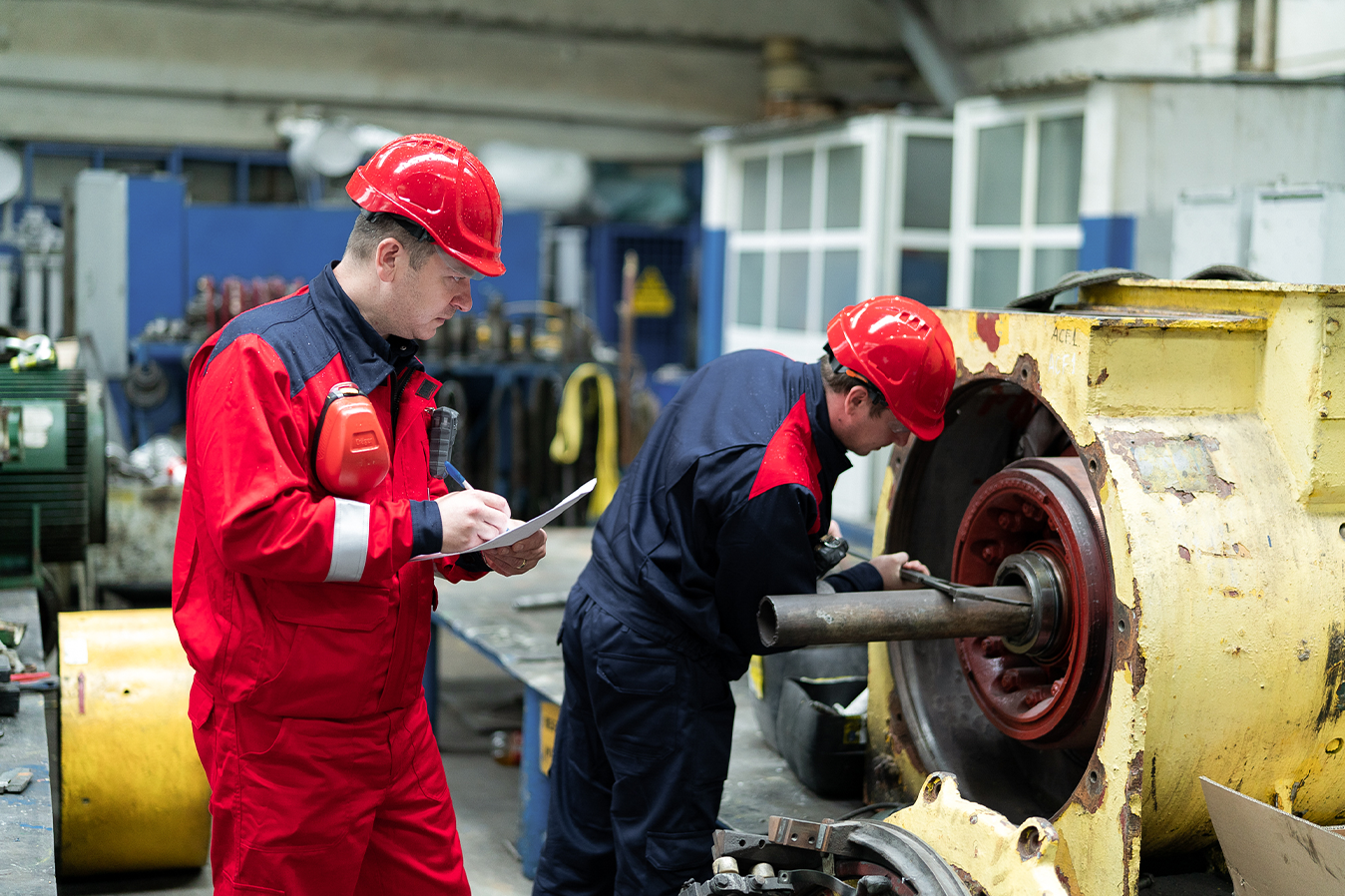 Rominserv provides maintenance services for the biggest refinery in Romania, Petromidia, since 2001. Petromidia is ranked as a complex and one of the most modern refineries in the region.
For us maintenance is not a function meant to repair broken equipment rapidly. We consider it a strategic business division having as a main operational goal availability performance and supporting owner business targets.
We don't act as a contractor per se, we perform maintenance in a unitary frame where strategy, process and competency development is at its place, resulting in operational efficiency.
Principles
Maintenance services
Key advantages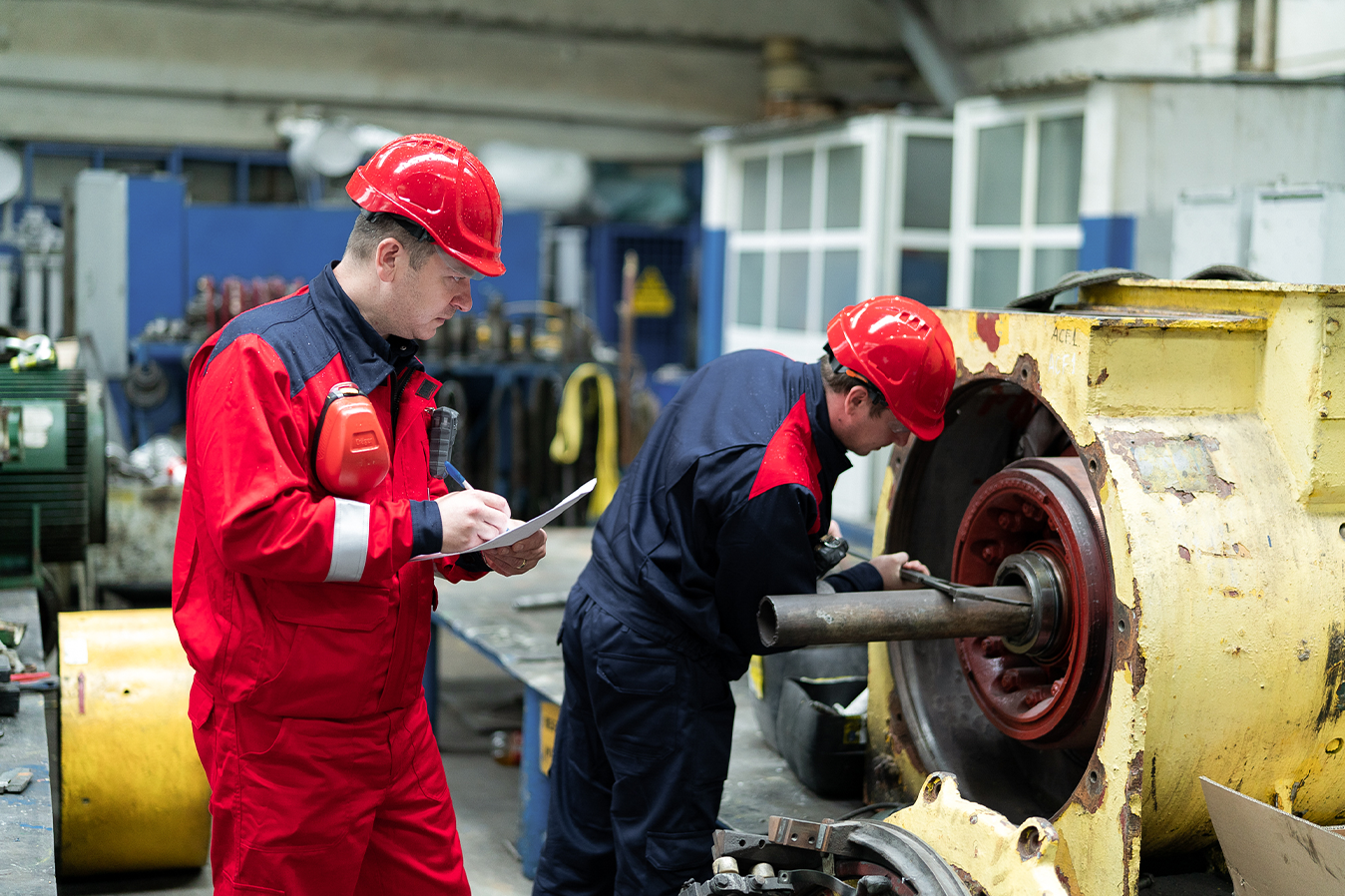 Principles
Owners should focus on their production and marketing areas, we'll take care of maintenance

Know-how is not a secret. We share experience from other business, subsidiaries and branches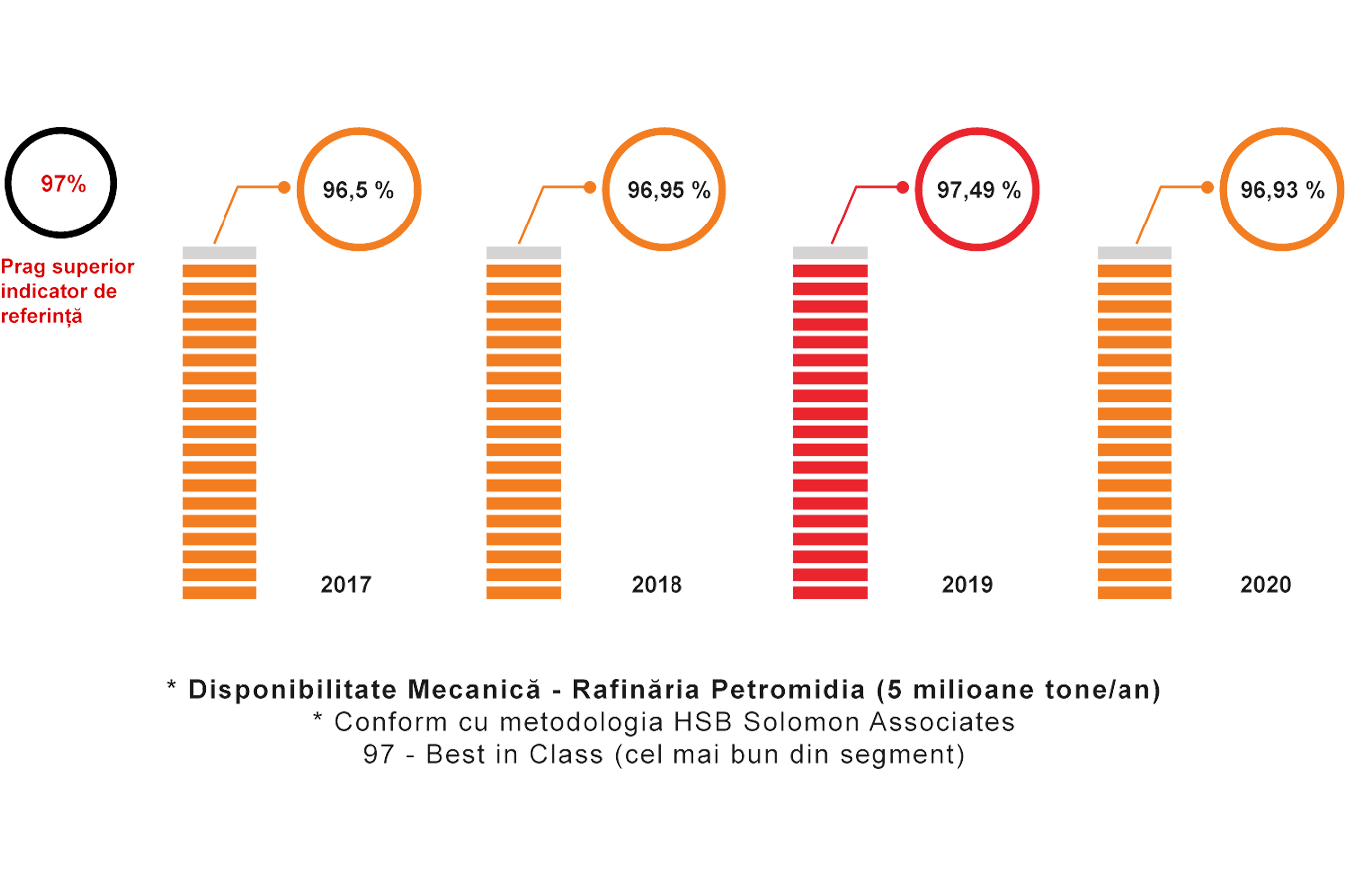 Maintenance services
Full service works for industrial units and equipment (static, rotating, electrical and I&C)

Regular and general equipment repair operations

Turnarounds, outages and overhauls of industrial installations and equipment

Preventive maintenance of system and equipment

Predictive maintenance of system and equipment
Key advantages
Own dedicated business application teams for Maximo Asset management, CMMS, Primavera, Contract management, SAP

Historical database from refineries and fuel distribution network with cost details, supplier's details, inventory variation, valuable information on key equipment, trends, results of root cause analyses, etc.

Experienced specialists for each discipline: Static, Rotating, I&C, DCS, Predictive Maintenance, Preventive Maintenance, Engineering, etc.

Ability to control budgets and procurement & purchasing maintenance contracts

Proven experience on enhancing operational efficiency, cost optimization and availability performance

Experience in performing maintenance based on equipment strategic and safety importance
Turnarounds and shutdowns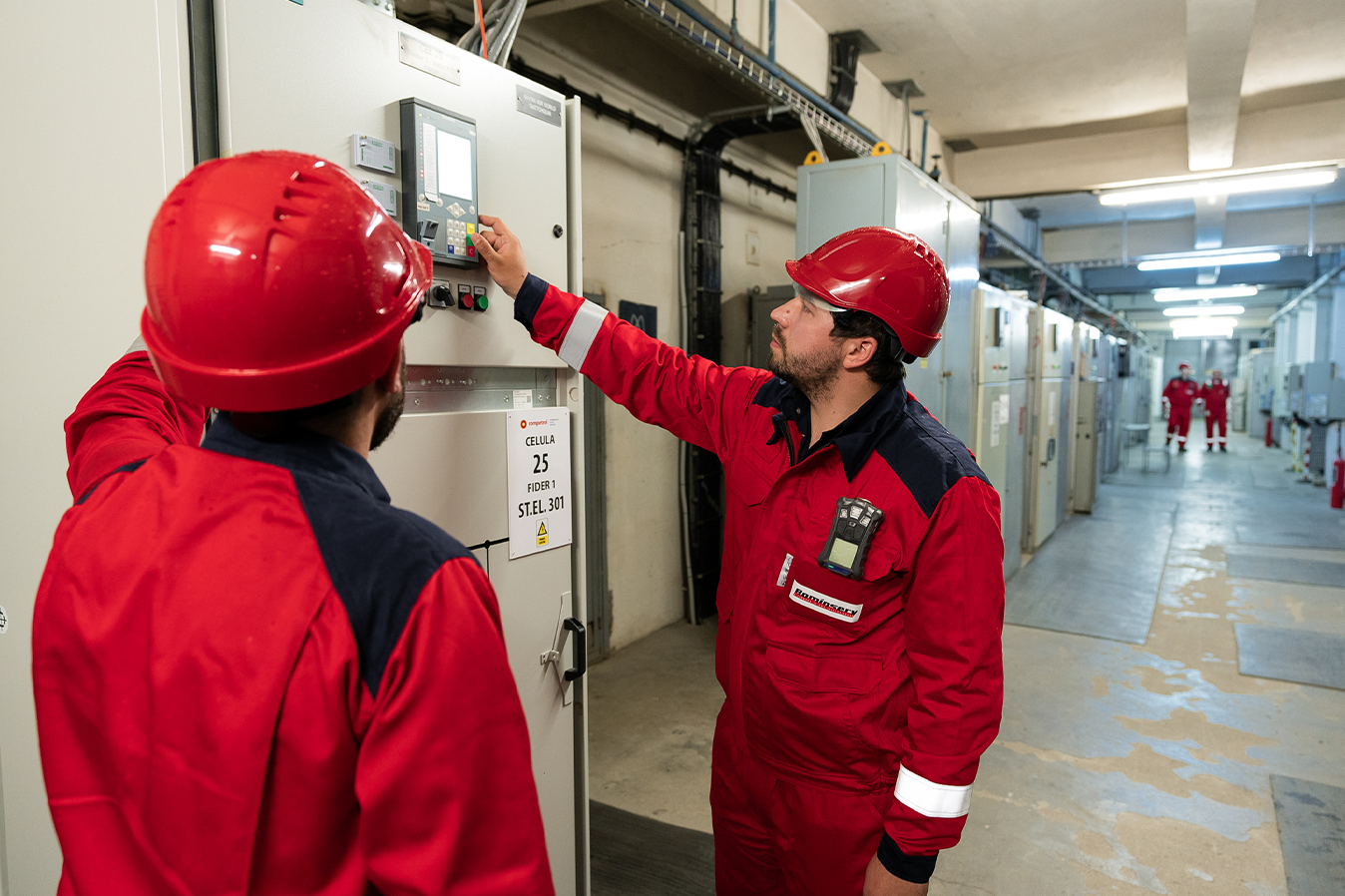 From a production perspective, a turnaround is a scheduled event wherein an entire processing unit or plant is closed for long periods for revamp or renewal.
From an engineering point of view a turnaround encompasses all types of industrial projects including Inspection & testing, shutdowns, emergency outages, debottlenecking projects, revamps, catalyst regeneration etc, where a processing plant is shut down until the works is completed then restarted, thus "turning around" the unit/plant.
From an operational point of view a turnaround has both maintenance and project management characteristics, thus being volatile and challenging having dynamic scope unfolding as inspection occurs and compressed scheduling that may have little or no opportunity to correct the critical path.
Key guidelines for turnaround execution
Benefits when outsourcing TAR to Rominserv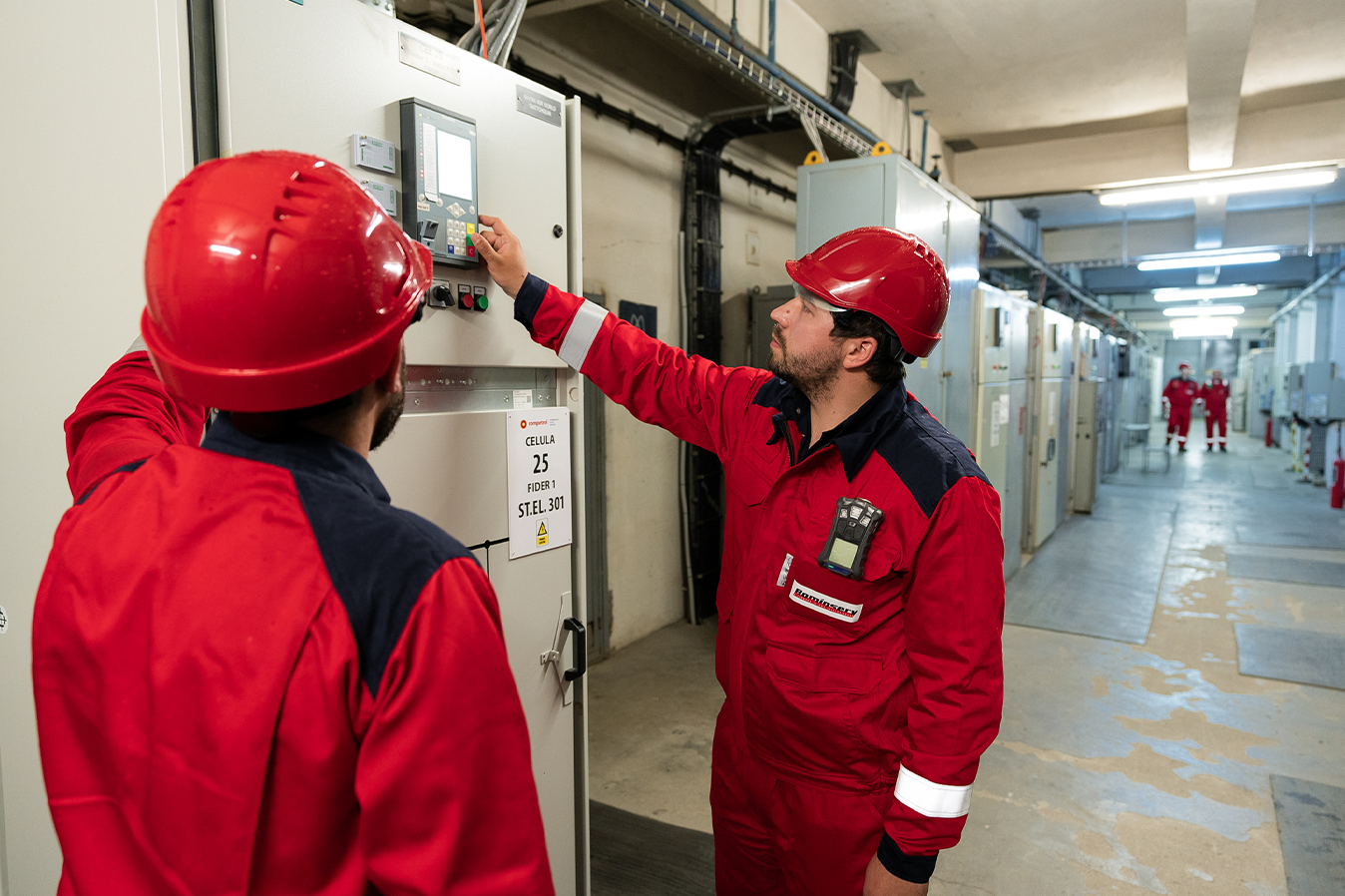 Key guidelines for turnaround execution
Clearly defined procedures to obtain the overall efficiency of the turnaround

Responsibilities are assigned in accordance with every person's skill, experience and motivation

Time and cost are always critical and require special attention. These two important keys are kept under control through detailed planning and scheduling

Professional subcontractor selection

Effective collaboration between maintenance, turnaround, inspection, quality, operating, subcontractors and HSE teams
Benefits when outsourcing TAR to Rominserv
Single point input and responsibility;

Execute only needed work in turnaround period

High impact in optimization of turnaround time & cost

Reduce equipment downtime and reactive maintenance costs

Increased periods between turnaround

Increased mechanical availability

Improve operational efficiency

Transparent system for maintenance and turnaround management

Opportunity to measure, analyze and operate expenditure

Transparent system of planning and strategic goal setting

Inventory (spare parts) optimization

Focus on core business
Commissioning & Start-up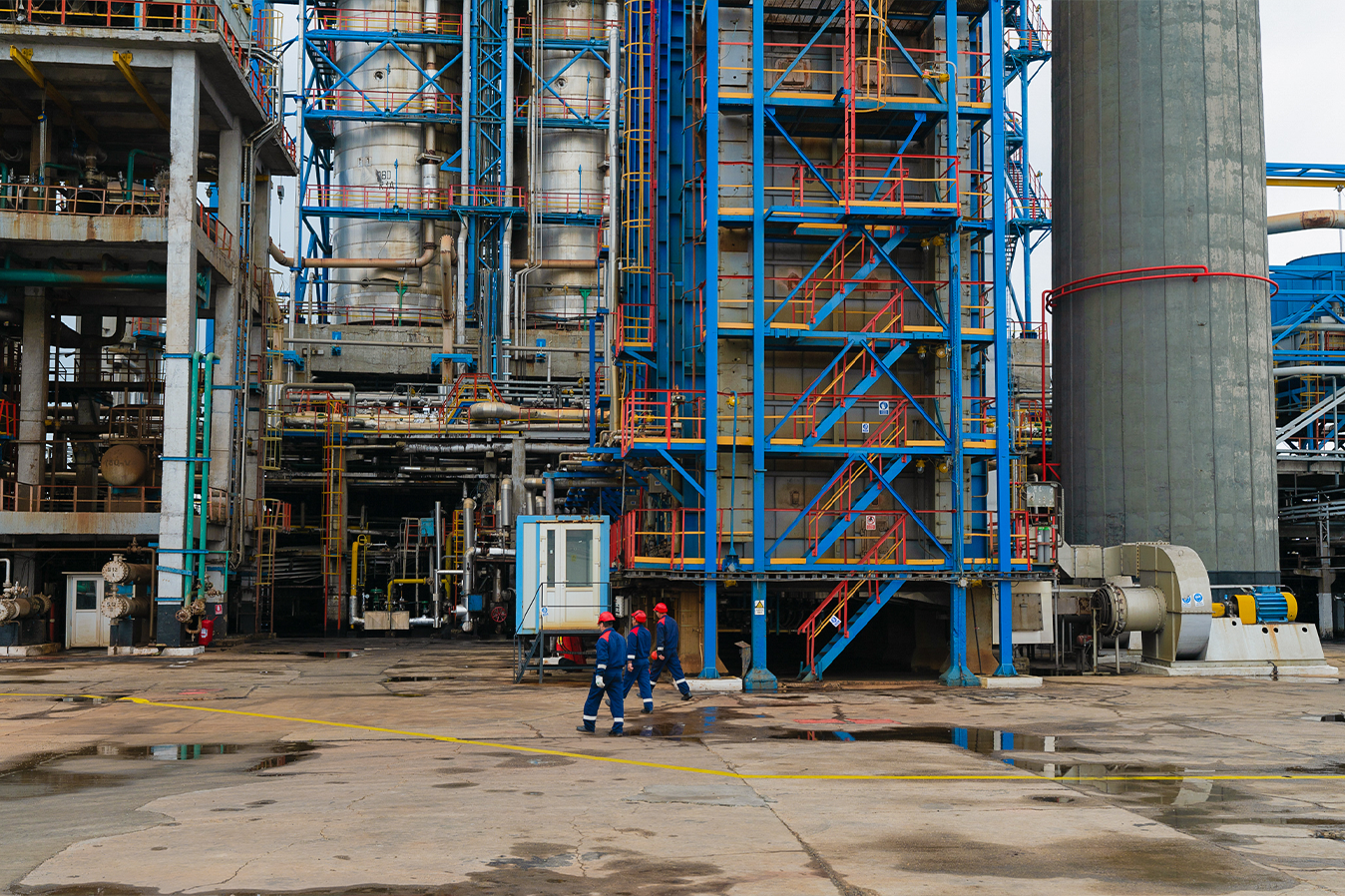 Planning according to customer and plant requirements

Developing suited and customized control and audit plan

System evaluation

Tag lists

Equipment trouble-shooting

Problem solving under industry best practices and methodology

Rotating equipment audit

Piping testing

EI&C Calibration and check-out

HSE coordination

Alignment with local and international regulatory requirements

Handover and acceptance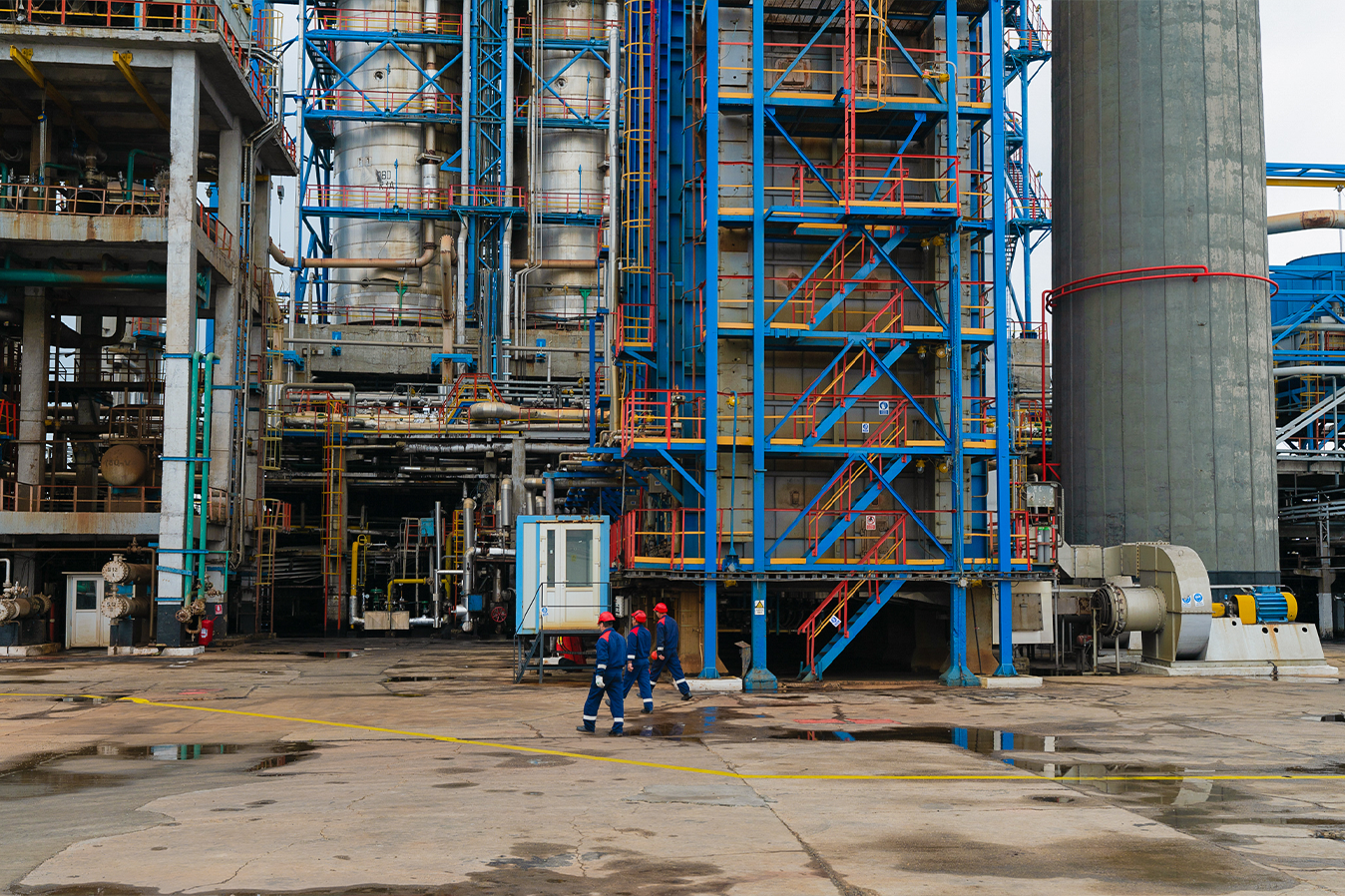 EPC Services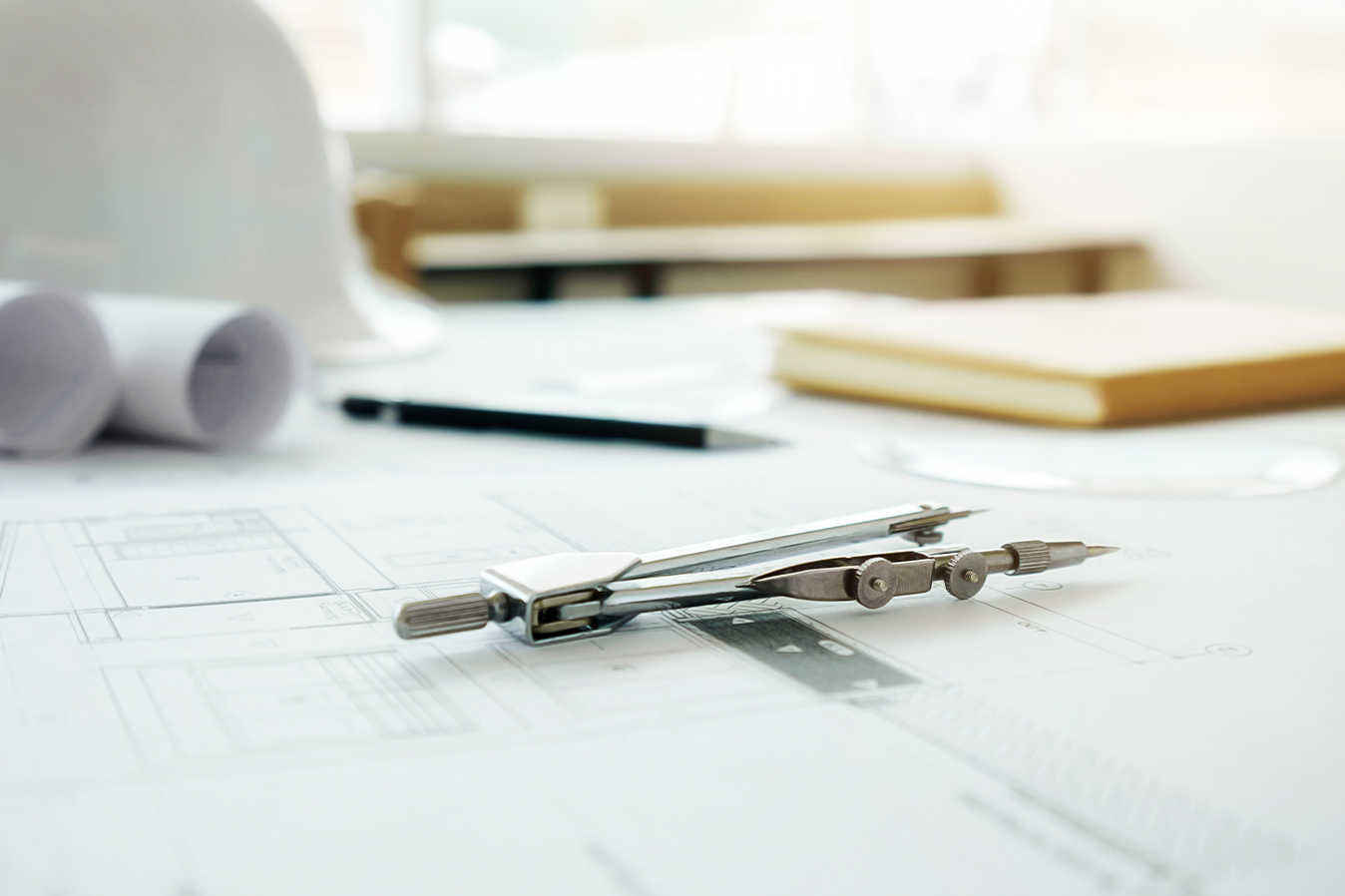 As EPC Contractor, Rominserv takes responsibility for all the activities from design, procurement, construction, to commissioning and handover of the project to client.
Rominserv technical experts have delivered many "management services" for full projects implemented within refineries in Romania and Kazakhstan and various industries.
Engineering
Procurement
Construction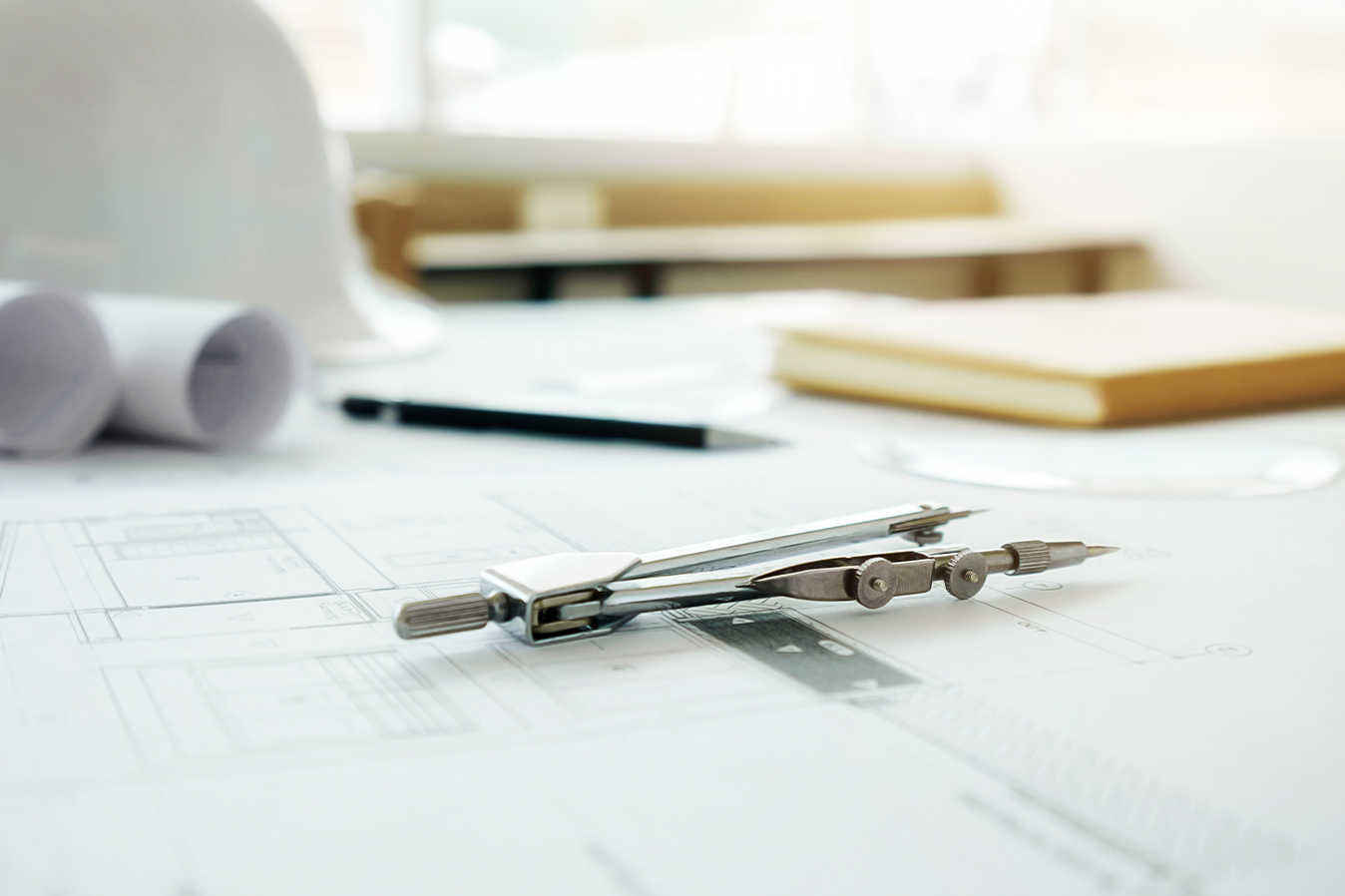 Engineering
Basic Engineering

Detailed Engineering

Design and drafting

Engineering studies and assessments

Technical expert reports

Pressure vessel inspection programs

Project implementation management

Technical assistance

Engineering consultancy

Mechanical equipment and piping design
Procurement
General supplier of materials, tools and industrial equipment ensuring a competitive electronic tendering system, tracking the requisitions and deliveries, keeping accurate image of stocks and recording supplier evaluation.
Our Procurement Department creates the necessary supply chain link between all corporate functions (project management, construction, maintenance) and outside participants (suppliers, subcontractors, clients).
Construction
Mechanical Erection

Rotating Equipment installation

High pressure equipment installation

Transport and storage facilities construction: Tank farms, pumping stations, pipelines

Coatings, scaffolding and insulation works

Electrical works and equipment installations

Instrumentation and Control works and equipment installations

Civil engineering works

Environmental works
Industrial Diagnose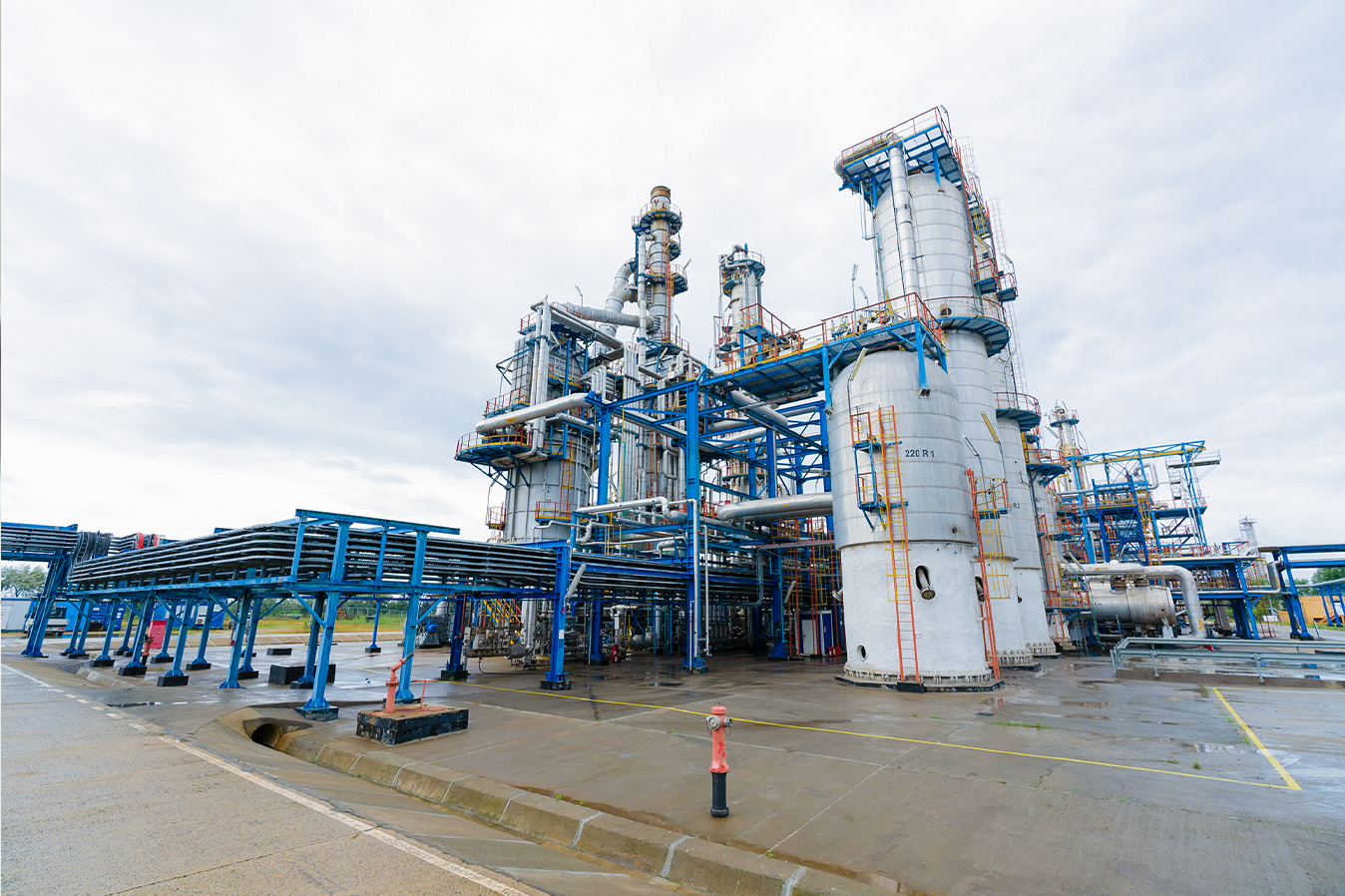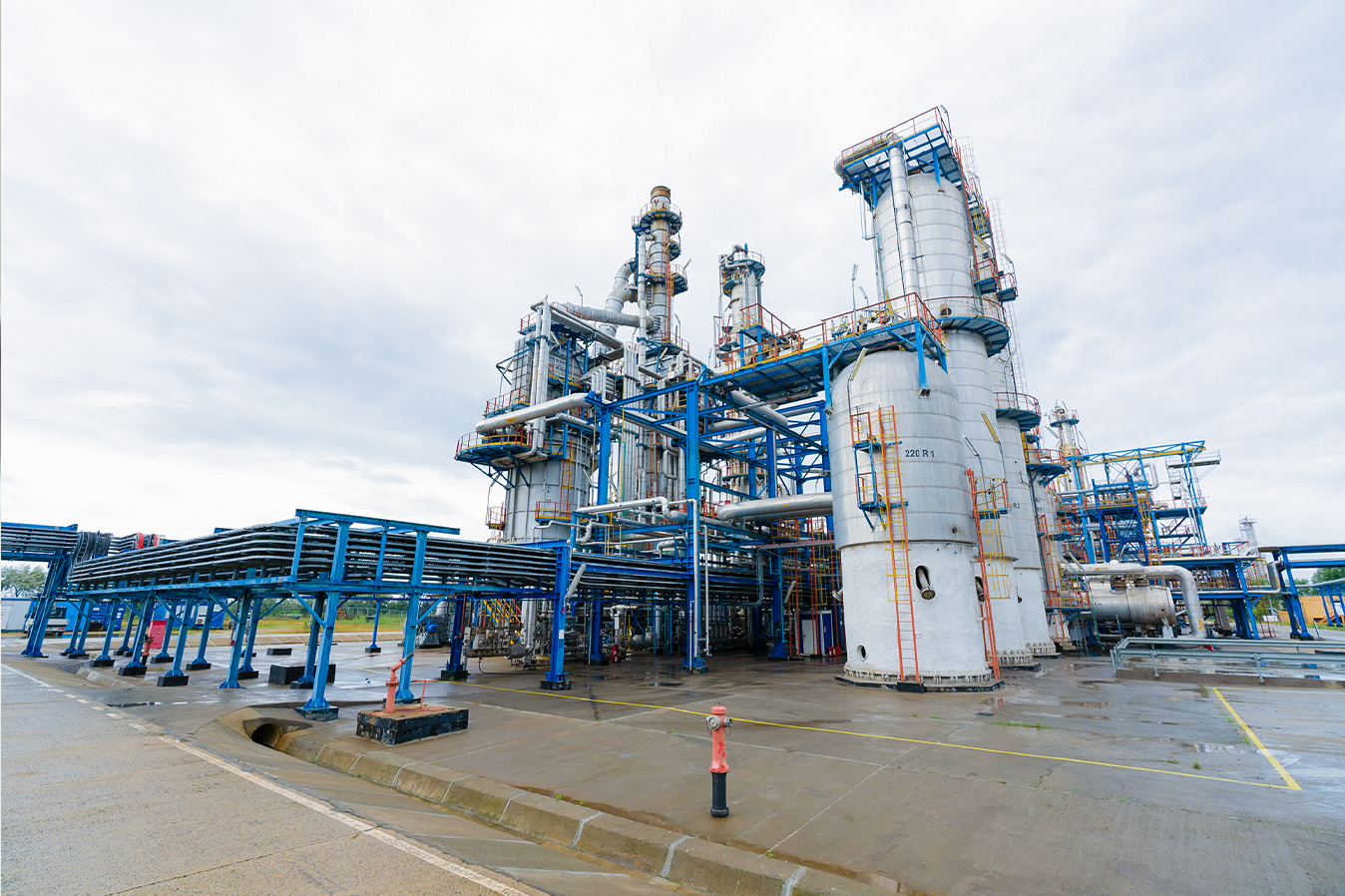 Vibration Analysis
We use vibration analysis as a tool for machinery condition monitoring. In order to reach the best result, we analyse vibration trend, spectral time and waveform.
We rely on Peakvue methodology (is similar to the classic demodulation methodology with the exception that the signal never goes through a low pass filter) to detect faults from early phase and Autocorrelation methodology to evidence the fault under a waveform being able to have a fault finding earlier than under a classical vibration analysis.
Having certified and skilled technicians, reliable and updated CMMS software we are able to provide all the advantages of well performed vibration analysis:
Covering a wide range of rotating machinery

Know-how and archive data and trends of over 10 years

in-time fault detection

corrective maintenance planning (no down-times)

proper spare parts planning and purchasing

reduce risk of damaging the machinery
Oil Analysis
This condition monitoring technique provides valuable information regarding mechanical wear, oil contamination, oil degradation and chemical properties of the oil.
We use and exploit this technique as a predictive maintenance tool, building database and history.
By determining the oil chemical properties, contamination with ferrous and non-ferrous solid particles, contamination with insolvable liquids and determine the nature and form of the found particles we can evaluate wear condition of machinery internals, keep the machinery under operating parameters, create a customized oiling program cycle and non the least generate cost savings due to non-prevented corrective maintenance.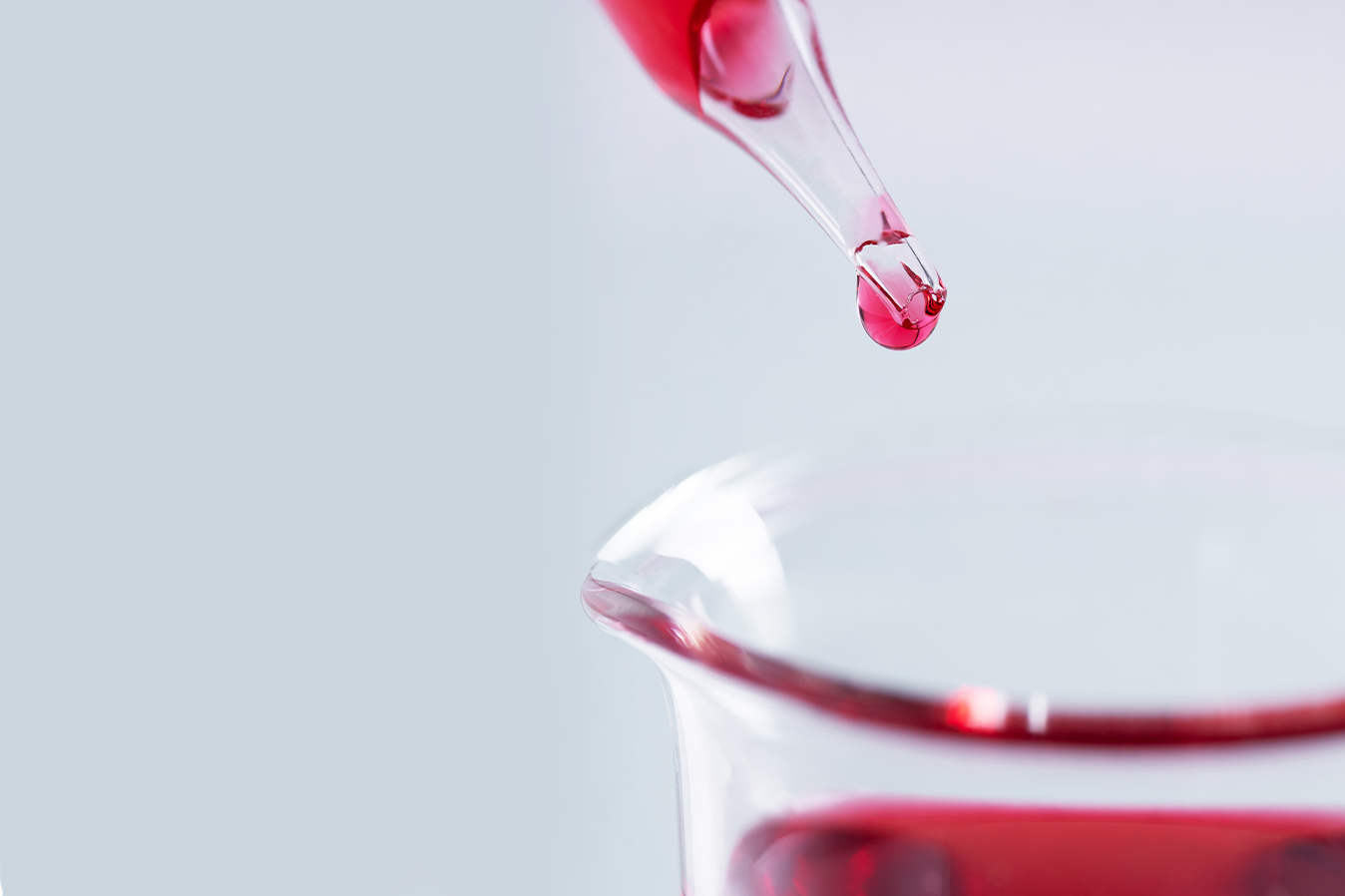 Flow Meter Proving
Within our Metrology department we perform test, calibration and commissioning for fiscal and non-fiscal oil products and LPG metering systems in any part of the plant: units, tank farms and terminals.
We have the advantage of using a mobile laboratory (Prover or Master meter) equipped with 2 Coriolis meters an OMNI 3000 computer, dedicated software and auxiliaries.
Proving is needed to accurately determine if the fluctuation of the fluid properties and of the process conditions affect the meter calibration under operating medium. We perform proving by comparing a flow rate, which passes through a meter under testing in operating conditions, with a known reference flow rate having in scope to establish a Meter Correction Factor that once implemented, will balance the flow rates.
We perform all test on-site meaning that the client will have minimum production down-time (we only need time to connect in series with the flow-meter), we work with real process condition (live data for temperature and pressure), we calculate a Meter factor with the flow rate under control (the Meter factor is calculated taking into account all flow batches which may vary during the process), we can deliver both a mass result and a volumetric result (due to Coriolis meters), we provide possibility of multiple adjustments by product type and flow batch, we provide accuracy by providing only one uncertainty margin ranging between 0.1% and 0.3% and at the end we will also assist or directly implement the needed corrections.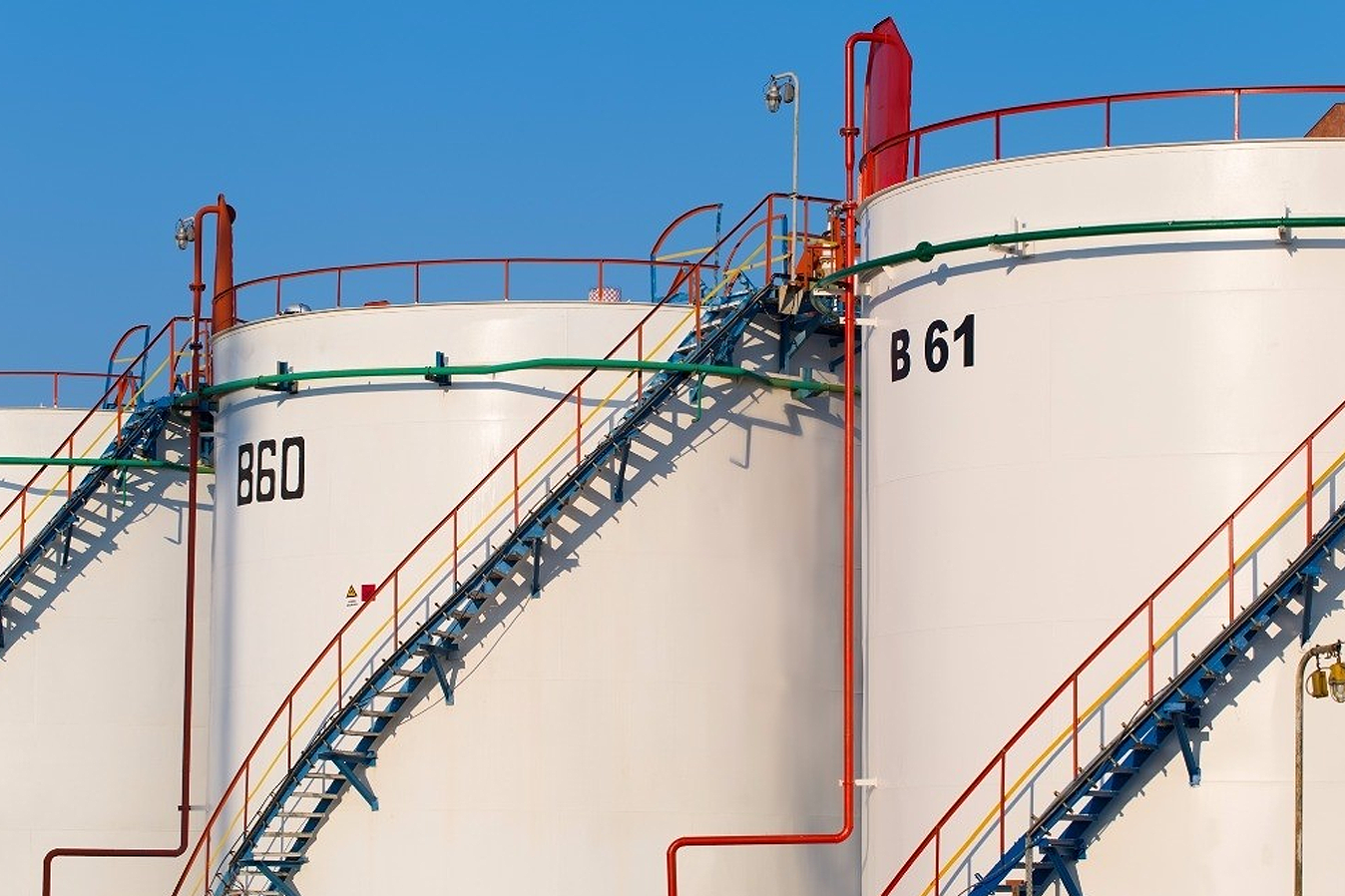 Industrial Diagnose - Infrared Thermography
As a condition monitoring technique Infrared thermography is a non-destructive and non-contact survey method that helps identify problems and defects by detecting invisible infrared energy produced by the target object and converting it into a visible image (thermogram), used for a quantitative measure and analysis.
Rominserv have been using this versatile technique for over a decade, perfecting especially the refinery range of equipment, investing in tools, CMMS software and human training, being able at this moment to offer both effective results and real value in terms of infrared condition monitoring services.
We use infrared monitoring on general application where the temperature doesn't exceed 350 degrees Celsius like isolators, circuit breakers, conductors, power lines, switches, transformers, contactors, miscellaneous electric apparatus, electric motors, rotating equipment, insulated surfaces; and on particular application surveying objects with temperature between 300 and 1500 degrees Celsius and objects placed behind a flame - furnace tubes survey and inspection for scaling, overheating, leaks, coke build up or evaluate burner efficiency.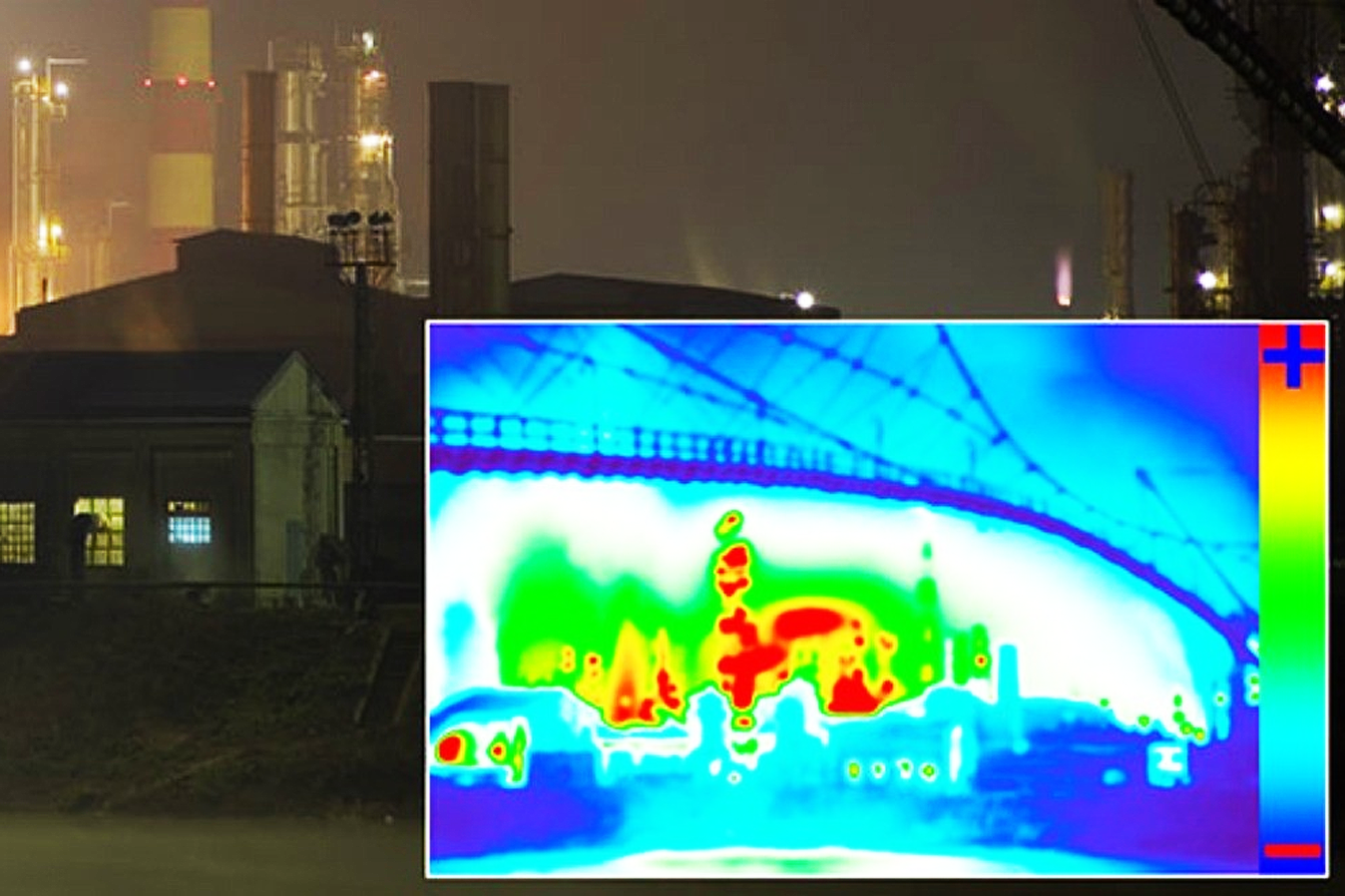 In-situ Safety Relief Valve Testing
We own a versatile equipment called PrevenTest that give us the possibility to provide In-situ safety relief valve testing.
Testing is performed under process and operating conditions.
The equipment can proof and correct, if necessary, performance of the safety valve.
The equipment is ATEX 137 certified version, having no limit of work environment, having an extended safety valve database from different manufacturers.
The equipment operates under software that will recognize the set pressure of the valve and will create a detailed test certificate after the test.
The operator is a trained and certified engineer with over 15 years of experience in pressured static equipment.
The advantages are multiple for the client: there is no need to shut-down the plant or the installation, testing is done under process parameters not under laboratory reference parameters, safety valve operating performance history can be recorded, the intervention can be repeated any time the client considers he has to test the safety valve.
Tank Floor Inspection
Through our NDT Laboratory we can provide tank floor inspection solutions.
The flagship methodology for tank floor inspection is Magnetic Flux Leakage (MFL) inspection. Being equipped with a motorised Floormap VS2 MFL scanner, our engineers will locate corrosion and accurately determine their area.
The operators will scan and map all the plates of the tank floor and issue a comprehensive and user-friendly report. The off-line reporting software automatically produces a CAD drawing (a map) of the tank floor with the defects being positioned to within 30mm accuracy.
All captured data, over 20% loss of the nominal plate thickness, is re-analyzed to identify the defect profile and separate the corrosion into 1 of 3 classes. Different sizing algorithms are applied to each class of corrosion, ensuring enhanced defect sizing even on badly corroded floors where small diameter deep pits may otherwise have been undersized.
The NDT Laboratory will perform a range of additional testing for fillet and lap welds, collect the data and generate a full inspection report. The software of the scanner allows subsequent inspection data to be overlaid and corrosion progress measured.
The proven advantages for the client are: full scanning and inspection of the floor tank, physical evidence of floor condition by generating a color coded graphical map of the floor tank and individual plates, exponentially more accurate than manual and classical tank inspection and the ability to accurately design patch plates.